Compuesta en 1979 por Tom Johnson, Nine Bells explora los posibles caminos que unen nueve campañas de diferentes tamaños –la música que puede componerse dependiendo del orden y la intensidad con que se toquen– suspendidas en una cuadrícula de 3×3, cada una de ellas situada a distancia de 6 pies de las campañas contiguas.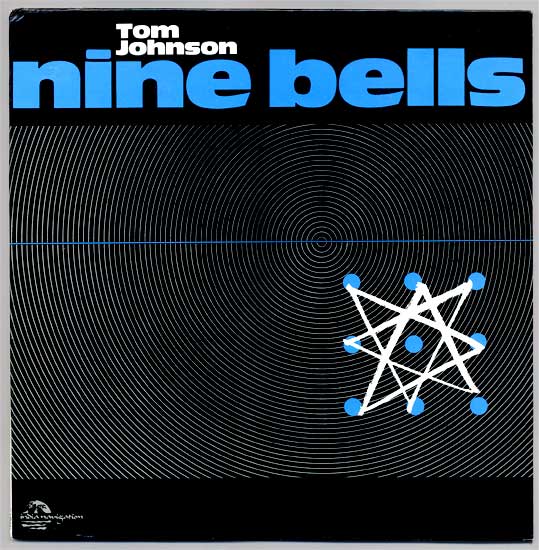 http://continuo.files.wordpress.com/2011/01/bells-front.jpg
La música se produce al hacer repicar las campanas siguiendo caminos precisos alrededor de la instalación. Los recorridos se realizan a mayor o menor velocidad, y el sonido de estos pasos –raudos o más pausados– forma parte de la pieza (recordar también Quad de Samuel Beckett).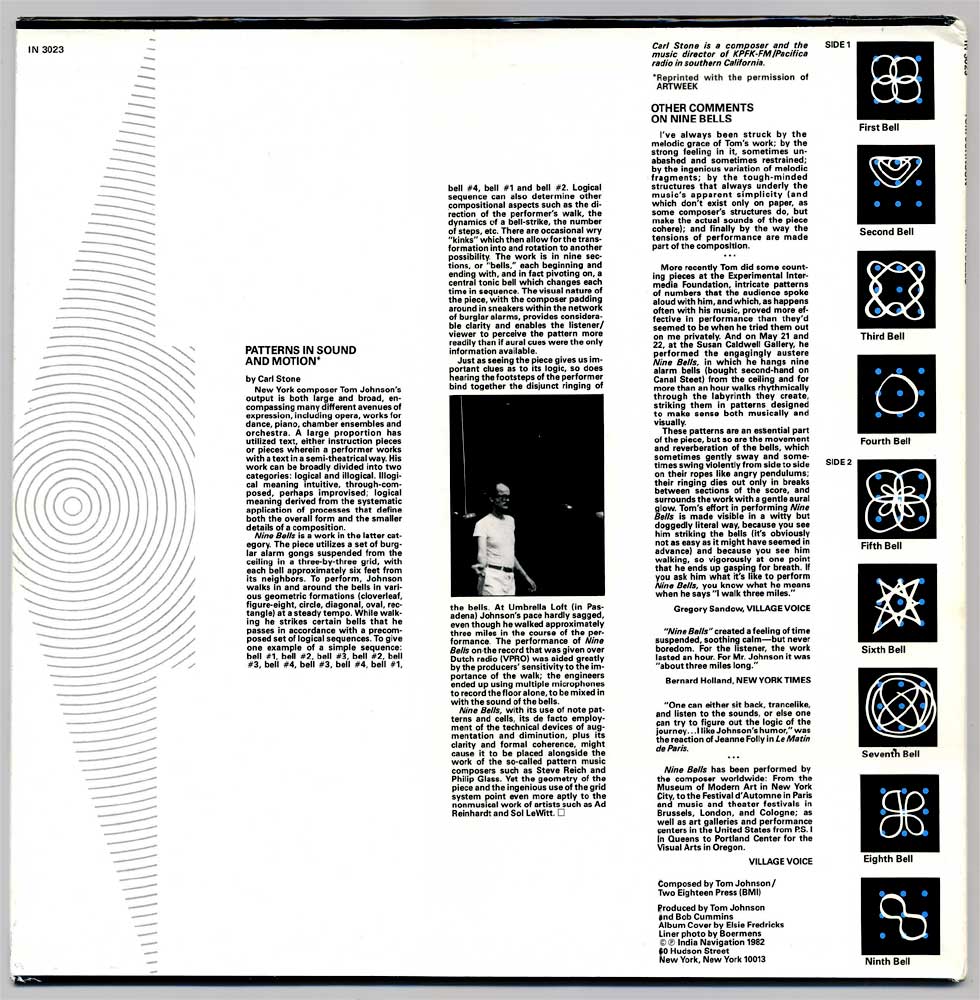 En la contraportada del vinilo pueden apreciarse algunos de los caminos recorridos
http://continuo.files.wordpress.com/2011/01/bells-back.jpg
En el LP grabado por India Navigation (IN-3023, New York, 1982) dura 57:30 minutos (puede descargarse en este enlace).
01 First Bell (8:06)
02 Second Bell (6:44)
03 Third Bell (7:22)
04 Fourth Bell (7:31)
05 Fifth Bell (8:30)
06 Sixth Bell (6:40)
07 Seventh Bell (3:58)
08 Eighth Bell (5:05)
09 Ninth Bell (3:40)
El propio compositor se encargaba de tocar su obra, hasta llegar a la edad de 55 años, momento en el que Johnson tuvo que dejar de representarla –se requiere una excelente forma física para poder realizar los trayectos requeridos durante la hora que dura la obra–. Otros artistas han interpretado Nine Bells, cambiando en algunos casos, la colocación de las campanas.
En I want to find the music, not to compose it (ver [1]),  Johnson explica:
[…] Nine Bells was a similar case, though here, as I walked around my bells, the logic was more geometric than arithmetic. It is often easier to see logic than to hear it, easier to visualize the rotations around a circle than to calculate a note sequence, and I managed to find a strict and audible logic for each of the nine movements. Later, when performing this piece, I sometimes had a very strange sensation. As I played the first note, stepped off on my left foot, and began the first cycle, the experience was very different from that of playing any other kind of music. It was the feeling of beginning something completely inevitable, something I could not stop, and it was clear that my feet were going to carry me on through the sequence, even if my memory failed, or if fatigue set in, or if the audience all walked out. I was a kind of puppet being driven by some inevitable geometric- musical logic that had little to do with my own will power. One could say that I had become merely a machine, but it was a very agreeable experience. […]
Más información:
Tom Johnson, I want to find the music, not to compose it, Editions 75


Tom Johnson – Nine Bells, Continuo's weblog

Quad, pura geometría, Cuaderno de Cultura Científica
Artículo publicado en el blog de la Facultad de Ciencia y Tecnología (ZTF-FCT) de la Universidad del País Vasco ztfnews.wordpress.com.